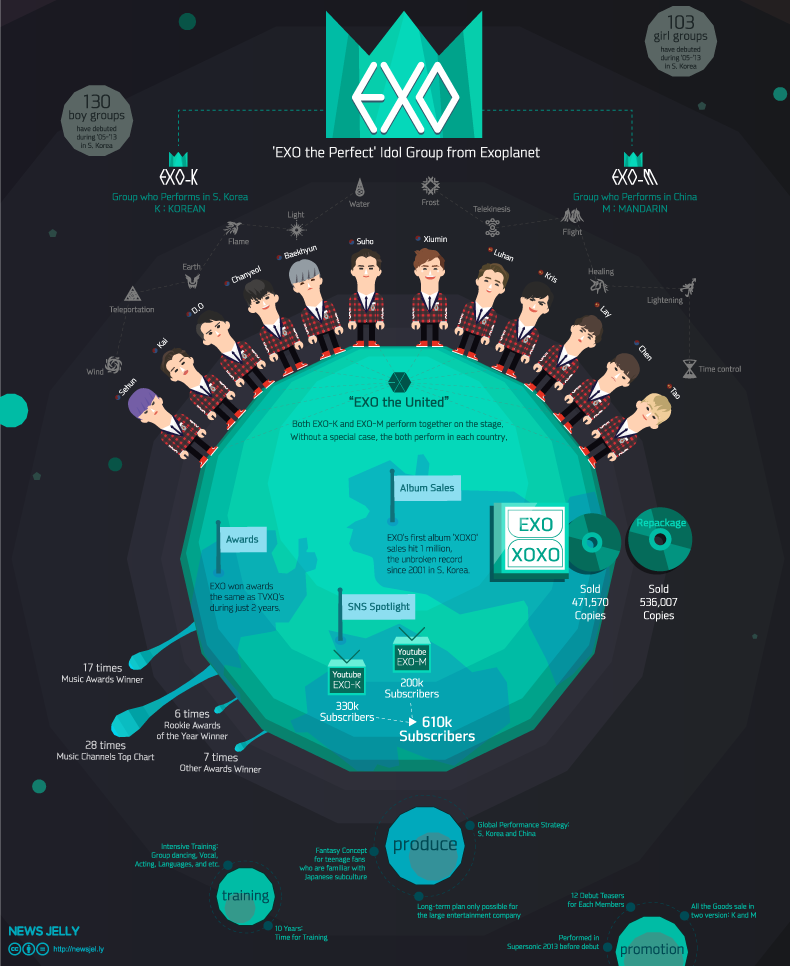 The EXO Report: How did EXO become a mainstream in the Korean music market?
The profile of EXO
EXO is an Idol boy band belonging to SM Entertainment. The name of the group, EXO, means the new star that comes from the unknown world, and its motive comes from the EXOPLANET. EXO, who split into two groups EXO-K and EXO-M has been actively doing its artistic work in Korea and China. SM was making public the Music Video and teasers for the album of EXO for 100 days, which aroused curiosity among its fans.
Its first album, XOXO (Kiss&Hug), have been sold over one million copies, and it is an exceptional one, since Kim Gun-mo, and GOD. More than one million sales records of the EXO's album acted as an ideal answer to the Korean music market. The local music industry has kept the market volume of eighty billion won since 2006. It is a sharp downturn compared to about four hundred billion won in 1997, when the IMF started; also, it led to a sharp decrease in sales volumes of music albums.
Since 2005, about 230 Idol groups have made their debut, this means that average 26 to 30 teams make their bow every year, but it doesn't mean that every team can taste the joy of victory. Average less than five teams marked their best sales of over one hundred thousand copies.
So, sales records of EXO's album is exceptional and for the first time, after online music market legally opened in 2005.
An idol like an alien came from outer space
EXO can be told as a result of SM entertainment's know-how to foster idol groups, so it has its own typical color. Its concepts of an unknown character with supernatural power gave a fantasy, and it can be seen as a different step from the standardized market of idol groups.
At the beginning, it only appeals to the fans of SM. However, its first album 'Growl', which has popularity, won EXO a complete success. It stayed on top of the charts in U.S. Billboard chart, and other music charts of Asia. Not only that, it made EXO as the main character of award ceremonies. This boy group won 17 grand prizes, and its songs charted number one about 28 times in the music programs of the terrestrial broadcasters.
The power of Idol maker, SM
Although the group made their debut separately in Korea and China through subunit groups, EXO-K and EXO-M, which released "XOXO (Kiss & Hug)" , "XOXO (Kiss & Hug) Repackage" album, and the group's first holiday EP titled "Miracles of December". The total albums of EXO are three, but each of them has K and M versions. This led the fans to buy each version separately.
This kind of SM's marketing method showed strengths especially in SNS and You tube, and it was extended to a spread of the contents like video clips, articles. Not only that, other tools for advertisement like photo card and coupon for EXO's autograph event acted simultaneously; therefore, it can be concluded that the EXO' s shining success like the enormous sales records, came from SM entertainment's capability of planning and marketing.
Enormous fandom doubles the results
EXO has a large fandom since HOT, TVXQ. Their records proves this well, since this record can't be made without fandom, while the online music market is the main stream.
EXO consisting of 12 members with different colors has a circulating system. It gained more popularity with separated sub-units, which led to successful sales records of their albums. Plus, the fans also worked as marketers and contributed to extend the artistic market by producing fancy goods of each EXO members.
Now music album is not just a medium. It is the product of singers' efforts, and consumers would like to possess those. That's the reason why SM can harvest successful results by filling the needs of consumers. However, we have to be sure not to commercialize the artists, because it could not only distort the truth of music, but also cause fans to excessively obsess with the privacy of singers.
Subscribe
Back to top